Do you grind your teeth while sleep? Does your jaw hurt due to bruxism? Then, here is a natural solution for that.


Stress or anxiety is one of the underlying factors that cause people for clench their teeth. In today's world people find it hard to "relax" and are pushing themselves hard to reach their goal. Putting your body through a lot of physical strain, nutritional deficiency or even dehydration can aggravate the tooth grinding. Simple way to beat stress can be to take sometime away from all the paperwork, fax, mobile phones etc. and relax oneself.
Some people grind their teeth simply because they have a missing or crooked tooth or an abnormal bite.
If you do not have a prolonged sleep or wake up in the middle of the nights frequently, you find yourself in an irritative mode during the day. A little trigger of anger or frustration is enough for you to clench your teeth.
People who are overly competitive, impatient, aggressive find it difficult to keep their frustrations in check and thereby grind their teeth unintentionally on occasions such as slow movement of traffic, waiting in queue. Learn to calm your mind. Practice meditation techniques, indulge in charitable work or simply get a good massage.
Hormone is another factor which affects women especially when they are attaining puberty level or reaching menopause. Around 80 to 90% of women suffer from Temporomandibular Disorder (TMJ) which is nothing short than severe injury to the jaw.
Get it out of your system – If you have any suppressed feeling of hurt or guilt, cry away. This will help you sleep better and are one of the relaxation techniques which will calm your mind thus stopping you from grinding your teeth.
Go ahead and read the following symptoms that would help you decide if you have Bruxism.
Symptoms on Brux:
As per a recent study, 95% of the Americans grind their teeth during their daily tasks knowingly or unknowingly. If you suffer from the following symptoms, you are having Bruxism:
Some people experience headaches while getting up in the morning simply because they chewed up their enamel overnight.
If you see your partner waking up with two pillows hovering over his/her ears, problem is either you snore too much or you grind your teeth so hard that you might count them on your hand. But no matter what you choose, it's still quite audible.
Pain in jaw joint is one of the major symptoms we can find in Bruxism.
If you have a cracked or chipped tooth enamel, chances are you clench your teeth while dozing off.
If you find puffy marks on your tongue, it is probably because you bit your tongue so hard that it left blotches on the mouth.
Summary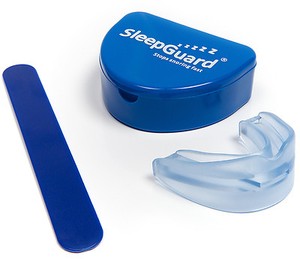 Author Rating
Brand Name
Product Name
Price
Product Availability
Posted on