Hive Away is a homeopathic medicine that helps to alleviate the symptoms of poison ivy.
It removes hives, reduces itching, redness and inflammation.
It helps to calm and soothe the skin.,
it provides fast relief and is available in tincture form.
Raised bumps, welts and burning sensations are removed.
Description
Hive Away
Hive Away is a safe and non addictive remedy for allergic symptoms related to poison ivy. Poison ivy is a flowering plant that is poisonous in nature. The plant has a compound urushiol that on contact with skin triggers allergic reactions. There will be reddish blotches that are highly itchy. The accident happens when the plant leaves are dead and coming in contact with individuals while clearing the dead leaves. Only the leaves would be dead, the compound stays active for a few years.
[restabs alignment="osc-tabs-left" responsive="false"]
[restab title="Ingredients" active="active"]Hive Away is effective to reduce the intense itching, inflammation, welts, etc. it has to be taken at the first signs of discomfort. There can be redness of skin, burning, itching, etc and other signs of skin irritation. It calms the skin without any side effects. It can be used safely by people of all ages, pregnant and nursing women, as well. Insect bites, temperature changes, food poisoning, etc can all result in allergic reactions on the body.
Ingredients of Hive Away
The ingredients in Hive Away used come under the HPUS. These are urtica urens, apis mel, chamomilla, am-c and rhus tox. These herbal ingredients reduce redness, burning, stings, swelloing, itchiness, skin sensitivity, pain, etc and improve oxygenation of skin and reduce general irritability and impatience due to these.
Urtica urens is effective in relieving the itchy blotches and the prickly feeling.
Apis mel clears the swellings and sensitiveness around the affected area.
Chamomilla is sleep inducing and help in relaxing the body and mind.
Ammonium carb is used for itch and burning blisters.
Rhus tox relieves the reddened skin where the poison was in contact.
[/restab]
[restab title="Usage"]
Usage directions for Hive Away
Hive Away comes in liquid form and is suitable for people of any age. They can take 10 to 15 drops every 2 hours till the symptoms subside. This homeopathic remedy is safe for all and does not cause side effects or other unexpected reactions.
Take the Hive Away liquid only 10 minutes after the meals or 30 minutes after tooth brushing. The drops can be administered directly into the mouth or else, mixed with a little amount of water and sip it slowly.
Strong mint flavored food items can interfere with its effects. The Hive Away drops and mint should be at least 30 minutes apart.
Hive Away is not safe for pregnant ladies and nursing mothers. If the skin rashes are accompanied by difficulty in breathing, seeks immediate medical attention.[/restab][/restabs]
Summary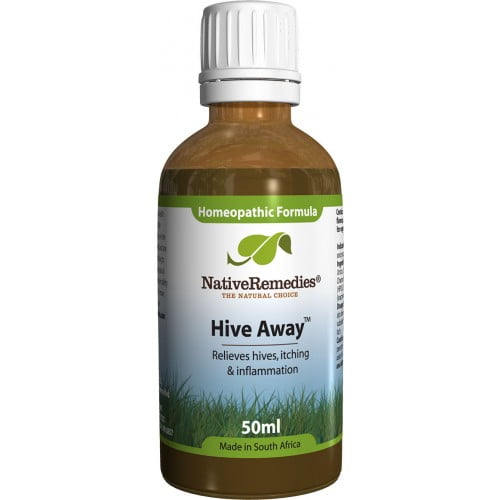 Author Rating
Brand Name
Product Name
Price
Product Availability