Arnica oil
Overall Arnica essential oil is beneficial for both for health and beauty. The plants are grown using biodynamic methods and therefore it is safe to use without any hard effects on body.
Arnica Salve and its healing power
It is a skin mending product that is made from the flower of Arnica and uses the rhizome of the plant. Arnica tinctures are made in a series of procedures like by steeping ethanol and straining it. The salve is the formed by mixing the tincture into an oil medium, petroleum jelly, oil,etc for thicker forms.
The Arnica salve is usually made by heating the herb and carrier oil in a pre heated oven upto 200 degrees. The oil is heated till the herbs begin to steep and then boiled. After several adjustments, the beeswax is added and stirred until it melts. When used for skin afflictions, it can reduce selling and increasing the healing speed. It also has some anti-microbial activity.
It also works against muscle pain and trauma residue aches and increases the blood circulation in the region. When applied on the affected area, it will soothe the pain and reduce fluid accumulation due to the injury. Athletes sometimes use the salve before a race to prevent swelling, muscle aches and pain while in the race.
Arnica Salve can cause dizziness, nausea, palpitations when used in small doses. The salve should not be used on broken and torn skin or it may enter the blood stream externally. It also can be harmful in high quantity. Since Arnica Salve is homeopathic, this can be prevented in most cases.
Additional benefits
It has to be rubbed onto the torn ligament area, sore muscles, sprains, swelling etc to get the required effect. Use the salve by massaging it with smooth, repeated, circular motion during application. When this is done, there is a gradual decrease in the pain you feel. Arnica Salve has healing properties that will seep out the muscle pain (or any other pain you may be feeling).
Arnica Salve is an excellent penetrating cure for clotted blood, inflammation and traumatic injuries. The homeopathic nature of the salve makes us question whether a trace of the herb will be enough to cure the problem. The truth is, it actually only soothes the pain temporarily and when used regularly, gives better results.
Temporary problems like insect bites and even chapped lips can be cured using the Arnica salve. It also reduces the symptoms of long term problems like arthritis, acnes, muscle and cartilage pain, varicose vein pain, sprains, etc. Arnica salve has wide spread uses and can be used as a topical medicine for many skin conditions.
Summary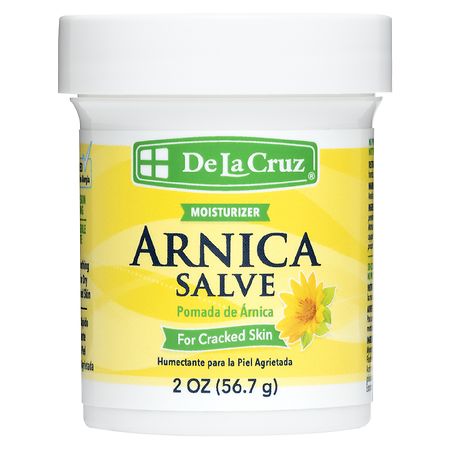 Author Rating
Brand Name
Product Name
Price
Product Availability
Posted on