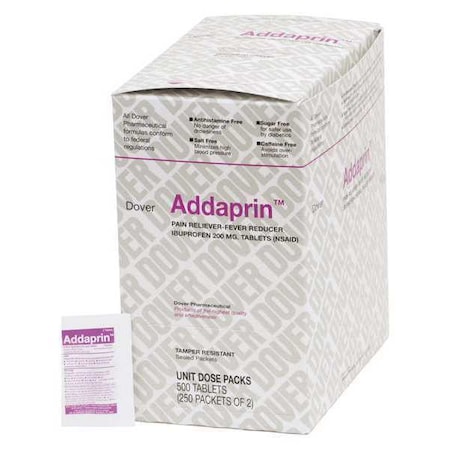 Addaprin effective pain relieving medication
Addaprin is an effective pain relieving and fever-reducing tablet. It is easy to swallow, non-steroidal, anti-inflammatory drug. It is free from Antihistamine free, sugar, salt, and caffeine free.
Addaprin ibuprofen tablets
are effective
pain relieving and fever reducing medication
. Each tablet contains 200 mg ibuprofen that is easy to swallow and carry in your bag. This medicine is available over the counter as well as a prescription from the doctor. It is a
highly effective medicine
and one needs to use this after knowing all the good and bad.
Read this article below to know every bit of detail about this drug that works wonders to provide relief from a variety of conditions.
Benefits Of Addaprin
A great remedy for severe headaches
Excruciating toothaches
Back and hip pain
Menstrual pain and cramps
Minor arthritis pain
Common cold and related symptoms
Muscle cramps and pain
Best fever medication
Ingredients of Addaprin ibuprofen tablets
Indication: Pain reliever/fever reducer
Active ingredient: Ibuprofen 200mg nonsteroidal anti-inflammatory drug or NSAID
Inactive ingredients include – carnauba wax, colloidal silicon dioxide, corn starch, croscarmellose sodium, pregelatinized starch, hypromellose, lactose, magnesium stearate, microcrystalline cellulose, triacetate, polydextrose, polyethylene glycol, polyvinyl alcohol, povidone, silica, sodium lauryl sulfate, sodium starch glycolate, iron oxide red, cellulose, stearic acid, talc, titanium dioxide and triacetin
Addaprin dosage and safety warnings
While you take this medicine, make sure to follow the recommended dosage and nothing more than that. It is always better to use the smallest dose possible and never take longer than 10 days unless a doctor advises you to do so. Take this product along with food or milk to avoid stomach upsets.
For Adults and children: (12 years and above)
Take one tablet every 4 to 6 hours while symptoms persist. If the pain does not subside or fever does not reduce then two tablets may be used. Do not exceed six tablets in the duration of 24 hours without an expert's advice. Also, do not give this medicine to children under 12 years.
Are you allergic to aspirin?
If the answer is a "YES" then you ought to read this section. According to reports and various studies, ibuprofen may cause allergic reactions in people who are allergic to aspirin. Commonly seen side effects are rashes, hives, skin reddening, facial swelling, blisters, shock, and wheezing. Therefore use with caution and if any allergic reaction occurs then seek medical help as soon as possible.
NSAID side effects
This product contains a NSAID, which may trigger severe stomach bleeding under certain circumstances. If you age is 60 and above then you have higher chances for the same. In addition, people who have had stomach ulcers, bleeding issues, consuming alcohol, and taking this product longer than needed can have stomach bleeding. If you are taking, any steroids or anticoagulant drugs and other NSAID's then you are highly prone to stomach bleeding.
Addaprin – stay away from this drug and ask a doctor before use
Before and after a heart surgery
If you have a history of stomach bleeding
Digestive disorders and heartburn
Cardiovascular problems, high blood pressure
Kidney problems and if taking a diuretic
Liver cirrhosis
Allergic conditions and asthma
Taking any other drugs
Having chronic or acute medical conditions
Taking aspirin for stroke or heart attacks as ibuprofen can decrease the efficacy of aspirin
Discontinue using Addaprin under the following cases
Never go above the recommended dosage as it may lead to heart attacks
Stomach upset and pain that does not improve
Feel like fainting, vomiting blood, having black or blood stools
If your pain does not get better within 10 days
Fever not reducing even after three days
Redness and swelling in the painful area
Unexpected symptoms
Ibuprofen while pregnant or breastfeeding
In both the cases, it is wise to consult a doctor before use. It is important to avoid this product in the last trimester of your pregnancy as it can cause side effects to the unborn child and create complications during delivery. In addition, breast-feeding mothers should use this product only under the guidance of a health expert. Keep this product away from children and in a case of accidental dosage call the poison control department right away.
Storage of Addaprin
You should store this medicine or the whole package at 68-77°F (20-25°C). Keep this product away from excess heat and light. Do not use any tampered packs and only used sealed packets. Read all the instructions and product information before using. For more queries, ask your pharmacist.
Missed a dose – what to do next?
If you miss a dose do not panic, that is fine and take it as soon as possible. However, do not take if it is already time to take your next dose. Just skip the missed dose and follow the dosing schedule. Taking double doses can be life threatening and poses serious side effects.
Buy Addaprin Ibuprofen Q1Unit Dose Packets
Addaprin is an effective pain relieving and fever-reducing tablet. Each tablet contains 200 mg NSAID film coated tablets. This product comes packaged in tamper-resistant and sealed packets of two and contains 500 tablets/ box. It is free from Antihistamine free, sugar, salt, and caffeine free. This product is available over the counter and at discounted prices with various online retailers.
To conclude: Addaprin is easy to swallow, non-steroidal, anti-inflammatory drug. It is also free from antihistamines and caffeine. This medicine is highly effective and commonly used to treat many issues. Even though it is commonly used, it causes certain side effects in some individual. It is always better to use this medicine after having a word with your doctor. Follow the instructions and dosages to avoid complications.