Wysong dog food product line is developed keeping in mind principle before the market or profits. Its internal team of dog health experts formulates these dog foods to offer you simply the best. To offer more peace of mind, you should be aware that all Wysong products are manufactured in their own premises taking care of all hygiene and health. Wysong offers a wide range of dry dog food, raw dog food, canned dog food as well as dog supplements. Its several features, ingredients and other details are explained beneath.
Wysong Biscuits Features
Biscuits are made from high quality all natural ingredients which does not contain any artificial binders or ingredients. Many other features of biscuits are:
Formulation – Wysong Biscuits are nutritionally designed and tasty Dog Treat which is extruded and not hard baked.
Finest quality – This is a premium quality product which comes in all natural ingredients and perfectly matches to Wysong viewpoint that dog treats and snacks should not be loaded with sugar or other similar unhealthy stuff.
No-worry No-guilt Food – Offering this biscuit to your pet will not create any worry or guilt in you as its main primary ingredient is organic chicken. Moreover, no artificial things and non-nutritive additives are included in this product making it the best snack for your dog to enjoy.
Alternative – For all its great features, it is the most convenient alternative offered to dog against raw bones.
Combined treat – This healthy dog treat can best be fed in combination with fresh home prepared foods or other Wysong dry, canned foods and supplements.
Best Ingredients – These biscuits are made using finest quality ingredients, which includes vitamins, prebiotics minerals, probiotics, omega-3 fatty acids, antioxidants, and tooth-friendly cheeses.
Easily Breaks – As this product comes with primarily whole ingredients, it is more likely to break easier than other products which contain refined ingredients and artificial hardeners or binders.
Supplement – For the best outcome, it is suggested to supplement these biscuits to main diets such as Wysong dry and canned foods or 99+% meat Archetype or Starch Free Epigen foods or fresh and whole foods prepared at home.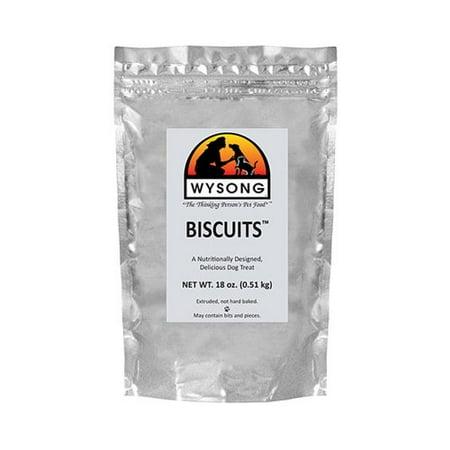 Wysong Canine Biscuits
Wysong offers a wide range of dry dog food, raw dog food, canned dog food as well as dog supplements. Wysong Canine Biscuits are part of dry dog food category which is Natural Dog Treats.
Biscuits Ingredients
Biscuits key ingredient is Organic Chicken along with other important content such as –
Brown Rice,
Peas,
Potato,
Natural Chicken
Fish Flavor,
Montmorillonite Clay,
Chicken Meal,
Beet Pulp,
Flaxseeds,
Cheese,
Molasses,
Calcium Carbonate,
Whey,
Salt,
Calcium Propionate,
Mixed Tocopherols,
Citric Acid,
Apple Pectin,
Rosemary Extract,
Yeast Extract,
Chicory Root,
Hemicellulose Extract,
Fish Oil,
Carrots,
Parsley,
Celery, Beets,
Lettuce,
Spinach,
Watercress,
Minerals
Vitamins.
All its ingredients have a nutritional purpose and a role to play.
Biscuits are the best treat or snack for your dog as it contains –
Crude Protein (min.) 21%,
Crude Fat (min.) 6%,
Crude Fiber (max.) 6%,
Moisture (max.) 10%,
Omega-6 Fatty Acids (min.) 0.6%
Omega-3 Fatty Acids (min.) 0.4%.
Biscuits Feeding Guidelines
Wysong biscuits include superior ingredients to offer your pet with all nutrition in just one healthy biscuit. In addition to important content, no artificial colors, sugars, or chemical taste enhancers' gives your dog the most needed health benefits.
Additional Information
Instructions – These Biscuits are a perishable food so it is suggested to freeze, refrigerate, or store it in a cool and dry place in a tightly sealed container.
Packaging – Biscuits are available in bag – 18 oz. Bag, Box – 10 x 18 oz. Bags or Case – 25 lb. Case formats. It may contain bits and pieces of biscuits.
The Name is Rajeev. I go by a lot of pseudo names because I just like to have fun. Like Shakespeare once said, "what's in a Name?" or was is Shakespeare? I love to read. Mostly fiction. I am probably the most unromantic person you could ever meet. Loner, Claustrophobic and often mute! I love to sit on my porch, read a book while it's raining. I live in a farm surrounded by creatures and my best friend is a dog named Happy.  I have worked in the IT industry for the past 20 years. I have been writing a book since the past 6 which i doubt will be complete anywhere in this century! I love to design websites and fantasize being a Hacker or nerd!