Welcome to Foreo iris eye massager! Early I used to think – I was born with a blue tone underneath my eyes. It's something that made me insecure every time. I tried all kinds of creams, lotions. But nothing could bring a major difference on my face. I still retained the dreaded dark circles and puffs around my eyes. Then, one day I came across the all-new Foreo iris illuminating eye massager. The devices promised to reduce puffiness, darkness, and lines. So, I made up the mind and thought of giving it a try. But before trying this eye massager, I was curious to see how a dermatologist would react on this. Somehow, I decided to give it a try because I was not interested to fill my face with injections. Further, here is a list of Foreo iris eye massager before and after results. Check the reviews, features, benefits and much more…
[ads "ad1" post_id=18675]
Iris eye massager from Foreo is a groundbreaking device, made with T sonic technology. The tool is best, designed with premium, ultra hygienic silicone that helps you achieve a youthful, luminous eye. Equally, the device is safe which helps in preventing bacteria build up, lowers the appearance of dark circles, puffiness, fine lines, crow's feet and wrinkles.
Iris eye massager – helps reduce bags under eyes, Foreo features
Helps in preventing bacteria build up.
Reduces under eye puffiness, dark circles, wrinkles, crow's feet and smoothens fine lines.
Comes in a compact, lightweight design. Equally, travel-friendly in nature.
Fully waterproof and very easy to clean.
Pure mode – Easily replicates the feeling of a manual massage.
Spa mode – Makes a professional beauty treatment experience.
Very quick to use – Just 1 minute is needed every morning.
Features 1 hour charge time with 140 uses per each full charge.
Equally, 8 intensity levels to suit individual requirements.
Foreo iris eye massager full ingredients list
1 x Foreo iris illuminating eye massager comes with a USB charging cable.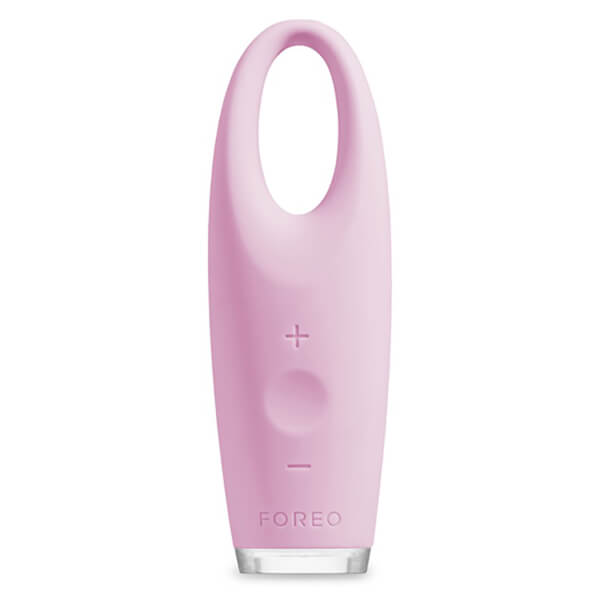 Foreo iris eye Massager
Foreo iris illuminating eye massager is made with innovative altering T sonic technology for maximum effectiveness.
Foreo iris eye massager – How to use?
Start by applying your regular eye cream or eye serum.
Then, apply the device to the eye contour, beginning from the center to the exterior, under and above the eye.
Hold the device for 30 seconds on one eye and 30 seconds on the other eye.
Now, after 1 minute the routine is complete.
Equally, the product has a built-in timer. It will warrant you don't overuse your device.
Note – The product is phthalate free, body safe silicone. You may also check on Foreo iris eye massager mint to know more.
Foreo iris eye massager reviews
Overall, the product has received 4.5 stars out of 5. Most of the honest customer testimonials have stated they are completely satisfied with the usage of this massage tool. Further, there are few user reviews stated for your reference. Let's have a look at some. This could definitely help you in making a right decision towards this Foreo iris illuminating eye massager…
Amanda Nichols says "The product really works! Early I had a lot of trouble with puffy eyes. So, I used to try dozens and dozens of cream with little success. But, this is the only thing that made a noticeable difference to my puffiness."
Janniss says "Love this little gadget! It's quite easy and fun to use. For me, it worked like a charm for puffiness and fine lines. I use it both morning and night every day. However, I highly recommend everyone invests in this great eye serum."
Cesca says "5 stars. I made it a regular schedule to use it every day. It beautifully massages the area under my eyes and between the brows."
Christy James says "Really, this has become a lifesaver for me. I had puffy eyes and I tried everything in the book. But nothing helped me. Finally, I switched to this formula. It's good at lightening the purple tones under my eyes."
Rihanna Christopher says "This Foreo iris has definitely improved the results under my eyes. I highly recommend this iris."
Ashlyn says "Worth the money spent. Helped in reducing the under eye bags so much."
Where to buy Foreo iris eye massager? – Foreo iris illuminating eye massager for sale online
The product is available for sale at www.foreo.com. You can buy them for a cheaper price online with many discounts, coupon deals. Further, visit the site for deep understanding.
Foreo iris Amazon
You can buy this product at Amazon also. They are available for a reasonable price with many coupons, promos. Other than this, you may also log in with your email address for receiving all the latest updates and deals on upcoming offers.
Foreo iris eye massager – Discount, Coupon, Promo deals
You can avail up to 25% off on all the selected products, 11% sitewide off on your first purchase (mainly on orders over $50), 15% off on all the Foreo beauty care products, 11% off on iris eye massager + free shipping and more.
Foreo iris eye massager – Frequently asked questions
No, Foreo processes all your personal information under strict confidentiality agreements. Thus, they will never share, sell or transfer your personal info to the third party dealers.
Does the company offer any warranty period on this product?
Yes, Foreo offers 2-year limited warranty and 10-year quality guarantee on all their products.
Can I buy Foreo iris illuminating eye massager from eBay, Walmart, Walgreens stores?
Currently, the product is not available at Walgreens. But, you can check with eBay and Walmart stores. They are available for a reasonable, affordable price tag.
I have some doubts and queries on this eye massager. So, where should I contact?
You can call or sent an email to the customer support team at Foreo. Here's a list of their email ids and phone numbers…
North Americana and Canadian customers – customercare-usa@foreo.com (working hours are from Monday to Friday 8 am to 5 pm).
Middle Eastern, African, European, Central and South American customers – customercare-emea@foreo.com (Monday to Friday 8 am to 4.30 pm).
Phone number – 0038515790882.
Australian, Asian and New Zealand customers – customercare-row@foreo.com (Monday to Friday 8 am to 4.30 pm).
Phone number – 4008369158.
What shipping method is used?
Foreo uses DHL or UPS shipping methods for all their deliveries. Equally, once your order is placed it will be shipped within one working day and delivered in 3 to 5 working days.
Which modes of payment are accepted by the company?
The company accepts Visa, American Express, Mastercard, Discovery and Diner's club on all their orders.
Conclusion
This Foreo iris eye massager is good for reducing fine lines, puffiness, dark circles, bags and crow's feet. Equally, this eye treatment helps in the removal of accumulated toxins and fortifies the skin's fabric. So, if you are in search of a professional eye treatment, try this best selling illuminating eye massager tool. It's guaranteed to work as promised!