Prescript Assist Soil Based Probiotic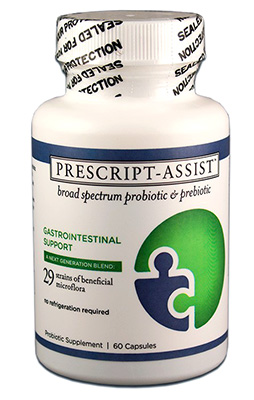 Prescript Assist Soil Based Probiotic Supplement
Prescript Assist Soil Based Probiotic is a balanced formula that is backed by a sound science. Read on to know more on Prescript Assist Soil Based Probiotic and its reviews…
Worried about your probiotics? Then try this Prescript Assist Soil Based Probiotic! This is a next generation professional probiotic dietary supplement. Specially made to take the worry out of your probiotic routine.
Prescript Assist Soil Based Probiotic
Prescript Assist Soil Based Probiotic is an effective probiotic supplement for restoring the levels of gastrointestinal microflora, poor diet, stress and digestive abnormalities. It is a mix of 29 individual and different strains of microflora. Moreover, it is backed by scientific research through peer-reviewed human clinical trials. The formula works by restoring a healthy balance to the flora in the gut. Thus, empowering your immune system to fight off harmful bacterial and fungal overgrowths.
Features of Prescript Assist Soil Based Probiotic
The formula is supported by Prebiotics.
Contains 29 proven symbiotic strains.
Enhanced GI survival of prebiotics.
Equally, no refrigeration is required.
It is a gluten free, dairy free and vegan product.
Benefits of Prescript Assist Soil Based Probiotic
Gives relief from nausea and occasional indigestion.
There is a regular and normal bowel pattern.
Reduced flatulence.
The supplement promotes a healthy GI environment.
Similarly, an overall sense of improved vitality and wellness.
Prescript Assist Soil Based Probiotic – Ingredients
Each 600mg capsule of Prescript-Assist Soil Based Probiotic contains – a proprietary blend of Leonardite, and the following microorganisms:
Arthrobacter agilis,
Arthrobacter citreus,
Arthrobacter globiformis,
Arthrobacter luteus,
Acinetobacter paspali,
Arthrobacter simplex,
Azospirillum brasiliense,
Bacillus pumulus,
Bacillus polymyxa,
Bacillus subtilis,
Bacteroides lipolyticum,
Bacteroides succinogenes,
Brevibacterium lipolyticum,
Brevibacterium stationis,
Kurthia zopfii,
Myrothecium verrucaria,
Pseudomonas calcis,
Pseudomonas fluorescens,
Pseudomonas glathei,
Pseudomonas dentrificans,
Phanerochaete chrysosporium,
Streptomyces fradiae,
Streptomyces cellulosae,
Streptomyces griseoflavus.
Other Ingredients Include:
Cellulose (vegetarian capsule),
l-leucine,
Bamboo (Bambusa vulgaris) extract.
Prescript Assist Soil Based Probiotic – Directions of use
It is recommended to take 2 capsules of Prescript Assist Soil per day for the first 30 days. Followed by 1-2 capsules per day thereafter or as recommended by the health care expert.
Note: A minimum full 30-day cycle of 2 capsules per day should be taken to reconstitute beneficial gut flora.
Prescript Assist Soil Based Probiotic – Reviews
Overall the product has received 4.2 stars out of 5 stars. This is a balanced formula specially meant to mimic the natural flora found in both paleolithic and traditional diets. Moreover, it is gluten free, dairy fee and vegan in nature. The formula has been used by most of the customers and they are happy with it. It has shown effective positive results in them. Mentioned below are some honest user reviews for your reference. This can surely help you in making a right choice towards this product. Let's have a look at them…
This Is A Miraculous Formula
"I have gone through many probiotics over the past 25 years and always have suffered from digestive ailments. Later, I found this supplement. I have taken one capsule per day for almost 7 days and am very happy with it."
"The pill is very easy to swallow and it doesn't have any bad taste. Thus, I love it…"
"Great in my opinion."
"5 stars! This was recommended by my doctor and it is very mild."
"This is an amazing product that is made without any useless fillers."
Where To Buy Prescript Assist Soil Based Probiotic?
The Probiotic is available for sale both at yeswellness.com and at amazon. You may buy them at a cheaper rate with many discount and coupon offers. From Amazon, you can get a $75 statement credit after the first purchase made with their Discover it card (with three months). Similarly, Yes Wellness offers free shipping on all the orders over $59, 50% off on clearance items and 15% off on organic products. Further, you may also visit the product's website for more information.
Frequently asked questions
Does the product need to be shipped in ice to maintain its potency?
No, this is a soil based probiotic and it does not require any refrigeration.
What is the contact number of Yes Wellness?
The contact number of Yes Wellness is 1-855-218-5088.
What modes are accepted?
Different modes of payments like Mastercard, Paypal, Visa, American Express and UnionPay are accepted by yeswellness.com.