Integrative Therapeutics' supplements are a collaboration of safe and effective therapies from conventional and complementary medicine. It is one of the top-tier manufacturers of supplements in use by integrative practitioners today – including naturopathic, chiropractic, nutrition, acupuncture, as well as a variety of general health and specialty practitioners. This article is all about the Integrative Therapeutics' Similase GFCF, a gluten and casein digestive enzymes formula.
Similase GFCF
This is a comprehensive plant enzyme supplement that specifically formulated to defend against hidden gluten. Gluten and casein are available on any unexpected things such as salad dressings, cold cuts, even toothpaste. Similase GFCF is a gluten and casein digestive enzymes including DPP-IV (dipeptidyl peptidase), to support the breakdown of gluten or casein.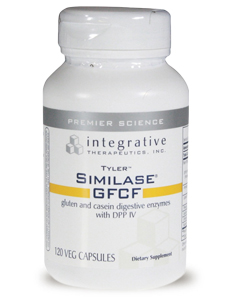 Similase® GFCF Enzymes For Digestive Support
This supplement provides a wide range of enzymes for digestive support. Similase GFCF is a gluten and casein digestive enzymes including DPP-IV (dipeptidyl peptidase), to support the breakdown of gluten or casein.
Digestion of gluten and casein can be particularly difficult for some people. But this supplement contains protease enzymes to support comprehensive digestion in combination with DPP-IV activity for the digestion of proline-containing dipeptides from gluten and casein. Similase GFCF also includes a complete range of digestive enzymes. It supports a gluten-free, casein-free lifestyle and helps relieve occasional indigestion, gas and bloating.
Competing products can only tackle gluten, but this product provides superior support of hidden gluten and casein digestion, as well as the digestion of carbohydrates, protein, fat, and fiber.
Similase GFCF – Features
It features microbial enzymes that are active in both acidic and alkaline environments
Its comprehensive combination supports the digestion of all food types
It supports the breakdown of gluten and casein
One bottle contains 120 capsules, costing around $29
Similase GFCF – Ingredients and Supplement Facts
The following is the list of ingredients present in this supplement
Serving Size: 2 Capsules and Servings Per Container: 60
Microbial Enzymes Assay Method 536 mg
DPP IV Protease Blend (Protease I, II,III,IV,V)
FCC (pH 4.7) 134,600HUT
FCC (pH 7.0) 22,660PC
USP (pH 7.5) 12,556USP
Amylase
FCC (pH 4.8) 9,530DU
USP (pH 6.8) 12,800USP
Lipase I, II
FCC (pH 6.5) 408LU
FIP (pH 7.0) 888FIP
Phytase
Phytic Acid (pH 6.0) 0.67PU
• Lactase I, II
Cellulase I, II
Sucrase (Invertase)
Other Ingredients:
Vegetable capsule (hydroxypropyl methylcellulose) '
Cellulose'
Inulin (from chicory root) '
Calcium laurate'
Silicon dioxide.
This product contains no –
Sugar'
Salt'
Yeast'
Wheat'
Gluten'
Soy'
Dairy products'
Artificial colors'
Flavors'
Preservatives or ingredients of animal origin.
Dosage
You can take 2 capsules with each meal or as recommended by your healthcare professional.
One bottle contains 120 Capsules which can last for nearly two months.
Similase GFCF –Precautions
This product will help reduce the level of reactive gliadin and gluten proteins in a meal' still it is advisable that people with celiac disease should continue with their normal gluten exclusion diet. This is because even a small amount of gliadin can cause adverse reactions in the most sensitized people.
If pregnant' nursing' or taking other prescription medicines' consult your healthcare professional before use.
Similase Digestive Enzymes Side Effects
Digestive enzymes are essential in the first step in restoring gastrointestinal health and optimizing digestion. The company claims that the microbial enzymes found in Similase are effective for a wide range of gastrointestinal pH conditions, such as supporting optimal digestion regardless of age, digestive function, and pH balance. These are also useful for –
Support for digestion of dietary carbohydrate, protein, fat, and fiber
Relief of occasional indigestion, gas, and bloating
Pancreatic enzyme replacement support
Support of normal gastric emptying time
Promoting lactose digestion
There are no known side effects of using Similase GFCF mentioned by its manufacturer. However, few users reported of having bloated, constipated and overall worst after using this supplement.
Similase Reviews
Similase GFCF has helped people digest proteins & carbs. Many people found this plant-based enzyme formula helpful to regulate digestion. But for few users, the product was not effective. It didn't improve their condition. Some even commented that the product is expensive.
R.E. had digestive issues for several years and after trying different enzymes, he bought Similase GFCF, based on his doctor's recommendation. He says this product has helped his digestion tremendously. With these enzymes, he can digest a wider variety of foods.
Jennifer really likes this plant based product, specifically design to help with the digestion of gluten and casein. It has greatly helped with digestion but has stopped taking this brand of the enzyme, being slightly expensive.
Sergio is using it for about two weeks now and has no side effects.
Kyle says there is something in it that makes her feel bloated, constipated, and over-all bad. It does not take away the gas. She thinks it may be because of the hidden inulin in the capsule.
Conclusion
This supplement provides a wide range of enzymes for digestive support. If you are having difficulty in digesting gluten and casein, this is one of the most comprehensive formulas available to help with complete digestion.