The Udo's Choice Oil 3.6.9 Blend is a 32 ounce glass bottle with a blend that gives most of the good fats that the body needs and which does not contain any of the bad fats that can be harmful to the body. It is an ideal balance of Omega-3 and -6 essential fatty acid. This ideal balance is a 2:1 ratio. These fatty acids are essential for the cells, tissues, organs and glands and are the main structural components of cell membranes. They are also important for growth of cells and their division.
Ingredients of Udo's Choice Oil 3.6.9 Blend
The bottle contains around 500 ml of the blend. It contains 9 g of polyunsaturated fat, 3 g of mono unsaturated fat and 1.5 g of saturated fat.
6 g of Omega-3 ALA (alpha-Olenolin)
3 g of Omega-6 LA (linoleic acid)
13 mg of GLA (gamma-linolenic acid)
3 g of Omega-9 OA (oleic acid)
The organic components of the blend
Flax oil
Sunflower oil
Sesame oil
Coconut oil
Evening primrose oil
Rice bran oil
Soy lecithin
Oat germ
Bran oil
mixed tocopherols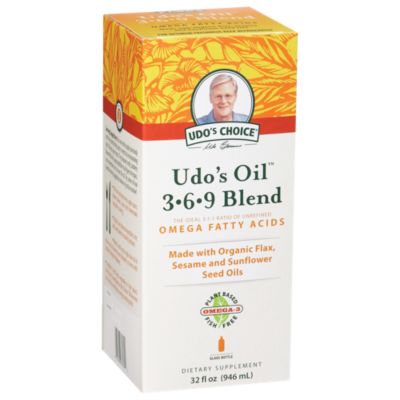 UDO'S CHOICE OIL 3.6.9 BLEND
The Udo's Choice Oil 3.6.9 Blend has a pleasant nutty, rich and buttery flavor and thus can be used with many recipes. Take care that the oil is not heated up.
Benefits of taking the Udo's Choice Oil 3.6.9 Blend
Stamina and endurance are improved by taking this. It will also decrease the recovery time and soreness after physical excretion or exercise. It is especially useful after competitions.
Healing of injuries is also sped up by using this blend.
A good metabolic rate is supported by this. In order to build and maintain lean mass, amino acid and protein usage has to be enhanced. This blend helps with it and also decreases storage's and production of fat in the body.
Oxygen uptake and usage is improved. Glandular functions are optimized.
The Udo's Choice Oil 3.6.9 blend can decrease mild joint pains and improve bone strength. Circulation and immune functions are also advanced.
Proper sleep is important for good metabolic rates and relaxation. The product can smoothen sleep and elevate mood. This will lead to heightened reflexes and concentration.
How to use Udo's Choice Oil 3.6.9 Blend
The Udo's Choice Oil 3.6.9 blend has a cloudy layer which is unique to it. The bottle has to be shaken well before use to get maximum benefits.
The recommended dosage is 1 tablespoon for 50 pounds of body weight per day. One tablespoon or slightly more can be taken with meals.
Other sources of dietary food can be combined with the course of Udo's oil. All the essential fatty acids are supplemented by this.